Discover ADCO Aska: A Journey to the Unexpected
A surprising twist of fate
Aska's journey to becoming a lawyer was anything but conventional. Growing up, he had dreams that did not initially include the gavel and courtroom drama. Being a lawyer was not his first choice, nor was it something he aspired to be. He had always envisioned a different path for himself, but life had other plans in store for him. 
During his formative years, Aska dedicated his time and effort to training for an industry vastly different from the legal world. His parents offered him various options, allowing him the freedom to shape his destiny. It was a turning point when he decided to leave his hometown of Batam and embark on a new chapter in Jakarta, enrolling in the esteemed Tarumanagara University to study law. He graduated with honors, proudly earning the cum laude predicate at Tarumanagara University.
The focused legal eagle
From the moment Aska embarked on his legal career, he was determined to remain focused and avoid any distractions that could hinder his success. He believed that drama and negativity had no place in his professional life, and he crafted a clear plan to guide him through the complex world of cases, clients, and legal intricacies.
Aska's approach to work could sometimes come across as stoic, but he felt this was necessary to achieve his goals. "Being a lawyer already brings all the excitement and buzz in life, so when it comes to work, I need to concentrate on that," he explained.
Despite the demanding schedule, Aska treasures his moments of solitude, finding solace in playing mobile games or going on occasional outings with friends. For Aska, balance was necessary – he embodies a philosophy of balance where his personal life coexists harmoniously with his professional commitments.
Guided by wisdom
One can't help but wonder how Aska maintains his remarkable serenity amidst the chaos that often accompanies the world of law. 
Here, he shares a treasured piece of wisdom passed down by his father, a guiding light throughout his journey. "Just imagine there are several doors in front of you, each leading to an unknown destination. You don't know what each one will bring. Understanding that there are opportunities around you, you must learn to recognize them and, more importantly, be willing to walk through each door. Each one you accept opens new doors, inviting you to embark on exciting new journeys."
His story, from an unexpected career choice driven by love to a thriving legal practice, reveals life's unpredictability and the incredible shifts that can happen when we embrace the unexpected. It proves the transformative power of seizing opportunities, staying focused, and embracing life with a Zen-like demeanor. Though his journey took him far from his original expectations, he ultimately discovered his calling in law through dedication, determination, and a constant reminder of the doors of opportunity that are open for those who dare to walk through them.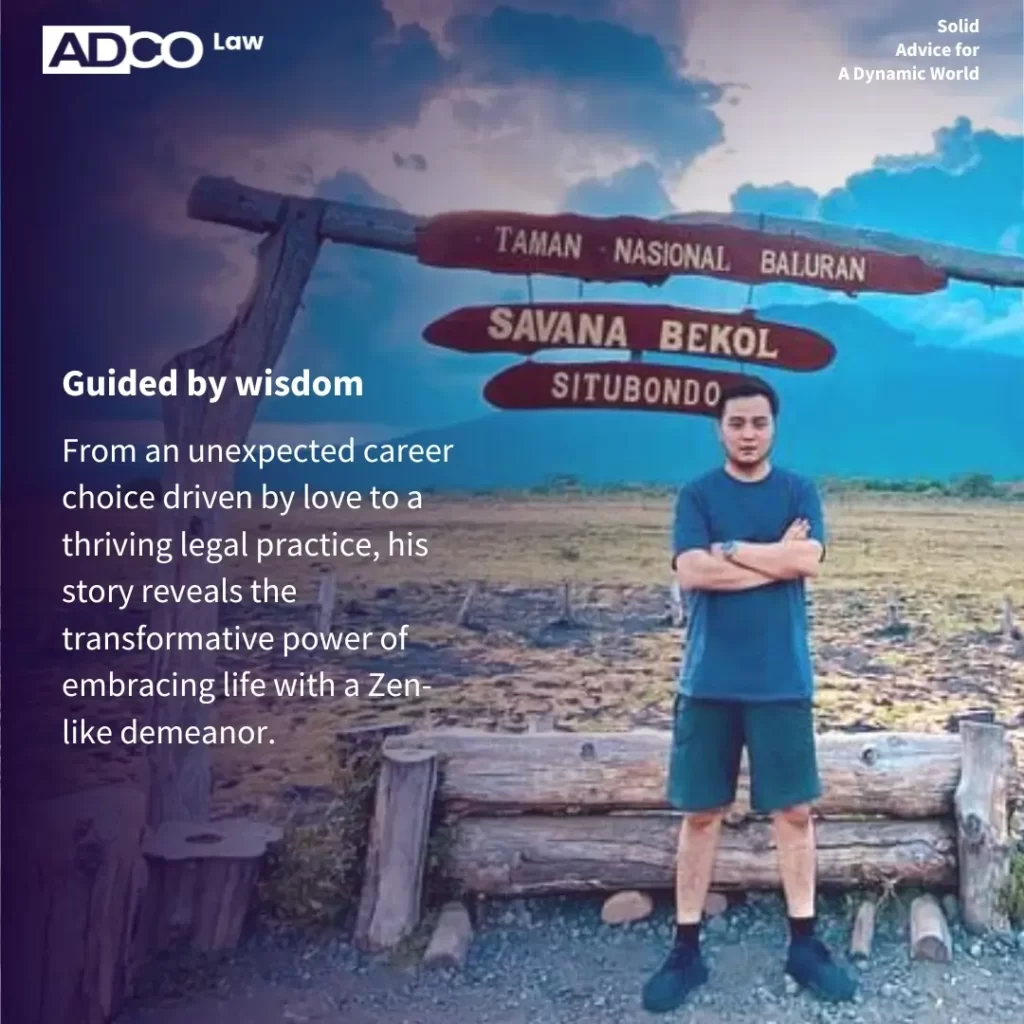 ***
About ADCO Law:
ADCO Law is a law firm that offers clients a wide range of integrated legal services, including in commercial transactions and corporate disputes in a variety of industry sectors. Over the course of more than a decade, we have grown to understand our client's industry and business as well as the regulatory aspect. In dealing with business dynamics, we provide comprehensive solid legal advice and solutions to minimize legal and business risks.
From Upstream to Downstream, We Understand Your Industry. In complex transactions as well as in certain cases, we are actively engaged with financial, tax, and environmental specialists, accountants, and law firms from various jurisdictions to give added value to our clients. Having strong relationships with Government agencies, regulators, associations, and industry stakeholders ensures that our firm has a holistic view of legal matters.
ADCO Law is a Proud Member of the Alliott Global Alliance (AGA) in Indonesia. Founded in 1979, AGA is one of the largest and fastest-growing global multidisciplinary alliances, with 215 member firms in 95 countries.
As a law firm, we also believe in regeneration. To stay abreast of business changes and stay relevant, our formation of lawyers is comprised of the top graduates from Indonesian and international law schools.
Contact our Business Development team for further information:
Alvin Mediadi, Business Development Manager, Indonesia
alvin@adcolaw.com
Patricia Maya, Marketing Communication, Indonesia